Benvenuti's Pizza Truck
We built the Benvenuti's Pizza Factory pizza truck on a brand new 2019 Ford F59 20 feet long cargo space step van. Benvenuti's Pizza Factory pizza truck is a one of a kind all electric Pizza truck with state-of-the-art innovative pizza ovens. Benvenuti's Pizza Factory Truck serves Pittsburgh PA area. The Benvenuti's Pizza Factory started in early 1960's serving many brands by manufacturing pizza crusts. The Benvenuti's brothers and partnership with chef Rulo brings you the fresh flavors of old Italy. From the "B-knotty" amazing garlic knots, to the classic cheese pies to the specialty pies, and don't forget the Stromboli's. The Benvenuti's Pizza Truck also provides catering services and corporate events. Are you a pizza chef? Looking to start a pizza truck? We can build you your ultimate pizza truck with a vast variety of pizza oven installations. We'll setup the truck for you so that it will streamline your production in the most efficient way. Pizza trucks and pizza trailers with electric pizza ovens, artisanal wood fired ovens and the traditional deck ovens are our expertise.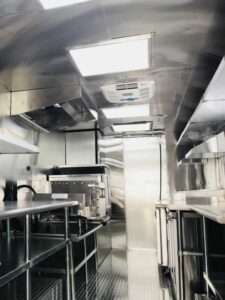 Are you interested in building a pizza truck? Interested in a different concept? Contact us today to start your dream food truck.