Airstream Coffee Trailer
The most challenging project we faced was this 1964 Airstream Safari, which got a ground up restoration and conversion to a swanky coffee and espresso shop, located in the lobby of a College. Through the years the trailer skin got oxidized and the shine faded.  As part of the restoration we refurbished the entire exterior layer, and brought the shine back. The interior completely transformed from a RV trailer, to a full-blown Airstream coffee trailer shop. All the interior walls were laminated with food grade stainless steel and outfit with state-of-the-art coffee and espresso machines. They serve pre-packaged sandwiches, and cold drinks as well.  This is not your average airstream trailer, with an attention to details on the original look and accessories. Whether it an Airstream trailer, Citroen HY van or the classy Italian Piaggio Ape? We'll take you through the restoration process and convert it into a swanky vending-vehicle or vintage food truck.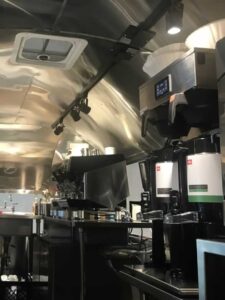 Are you interested to build an Airstream coffee trailer? interested in a difrent concept? contact us today to start your dream food truck.