Doughology donut bar food truck
We are so proud of this project and honored that Mr. Chris stiansen trusted us and guided us through his vision. We took the Doughology concept and minimized it into a smaller version with just about the same capacity, built on a used 2003 Workhorse Step Van fabricated and furnished by Master Chef Mobile Kitchens, including a large donut display, right under the service window, for the customers to view the signature donuts. Doughology Donut Bar is the first ever create your own donut bar on a food truck, Serving Nassau, Suffolk county and NYC; not your ordinary donuts. Choose from their everyday signature donuts or create your own at the donut bar. With an abundance of options, there is bound to be something for everyone. We also brew and serve fresh coffee all day. Doughology Donut Bar Food Truck operates around Nassau county and Suffolk county and is available for private parties and corporate events. Doughology Donut Bar Food Truck, has 3 sister store locations, with 2 on Long Island and the latest in Highlands, NJ. Beside the "make you own" donuts bar, Doughology Donut Bar Food Truck offers their signature donuts, such as "The Snikers", "Fruity Pebbels", "Smores" and the "Maple Bacon".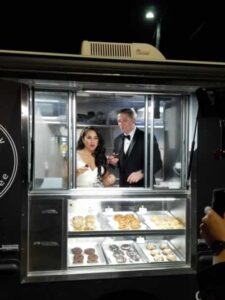 Are you interested to build a donuts truck? interested in a difrent concept? contact us today to start your dream food truck.