El Rincon Guayaquileno is an NYC traditional Ecuadorian cuisine food truck our food truck offers authentic Ecuadorian dishes made with fresh ingredients and traditional recipes. We provide a unique and delicious experience that you won't find anywhere else inNYC. Our menu includes popular dishes such as empanadas, seco de chivo, and ceviche. We always strive to use the freshest ingredients to bring out the best of Ecuadorian cuisine. Come and enjoy a unique and delicious culinary experience! We also offer a variety of vegetarian dishes and vegan options for those who prefer them. Our friendly staff are always available to answer any questions you may have. Come and enjoy the authentic flavors of Ecuador!
It's the place to go for Jackson Heights' favorite Ecuadorian food truck. We offer a variety of flavors and cuisines for everyone to enjoy. Come and experience the best of Ecuadorian cuisine! Our team is committed to providing quality ingredients and the freshest flavors. We make sure that every dish is cooked to perfection. We guarantee that you'll love the food!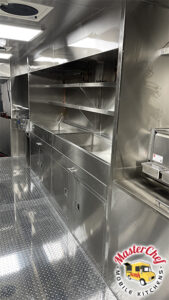 Are you interested to build a Catering truck? interested in a different concept? contact us today to start your dream food truck.