The Mediterranean Grill Food Truck offers a vast variety of authentic Middle Eastern food from the Turkish style döner kebab to the Shawarma and falafel and much more.  The Mediterranean Grill Food Truck offers food from the entire Middle Eastern region including and in addition to the standard selection they provide extraordinary salads, bowls and award-winning French-fries which are complimented by fresh pita bread and/or rolled Laffa bread.
Without neglecting the dips, Middle Eastern cuisine is famous for its tahini and hummus dips and many others.  The Mediterranean Grill Food Truck always uses fresh vegetables and a of course a variety of vegetables with an emphasis on flavors that erupt into a combination of spices.  The Mediterranean Grill Food Tuck brings all these flavors and fresh produce to the streets of New York City.  Not only can Master Chef Mobile Kitchens build a Mediterranean Grill Food Truck, but we have experience in everything from Halal food trucks and Halal push carts to a Kosher Falafel food trucks.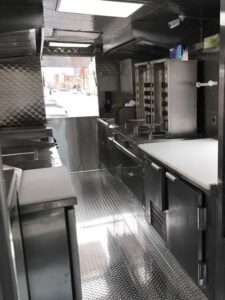 Are you interested to build a mediterrnean truck? interested in a difrent concept? contact us today to start your dream food truck.