The Frank Andrews Pizza mobile wood fired catering is perfect for any corporate or private events such as weddings, graduations, birthday parties, anniversaries, rehearsal dinners, luncheons etc. Their brand new fully equipped pizza truck or small towable oven are perfect for any sized party.
Their customizable catering packages offer all you can eat pizza with the option of adding Caesar or garden salad and/or dessert. Their dessert includes espresso, cappuccino, fresh filled cannoli, and Nutella pizza. We bring our most popular toppings including: Bacon, Pesto, Tomato, Onion, Broccoli, Chicken, Clams, Eggplant, Escarole, Hot Peppers, Mashed Potato, Meatball, Mushroom, Olive Prosciutto, Ricotta, Gorgonzola, Sausage, Spinach, Basil, Pepperoni, Roasted Red Peppers. We supply all plates, napkins, and utensils. If you have any special requests or inquiries, we will be glad to work with you.
Cooking with the Fiero Group Wood Fired pizza oven is an absolute delight. The dishes that come out of it are simply incredible! It is highly recommend this oven to anyone who loves cooking and wants to elevate their culinary skills to the next level. With its exceptional wood-fired cooking capabilities and sleek design, it's no wonder why this oven is so highly regarded by chefs and home cooks alike. Whether you're making pizza, roasting vegetables, or baking bread, the Fiero Group Wood Fired pizza oven is sure to impress. So, why not give it a try and see for yourself? You won't be disappointed!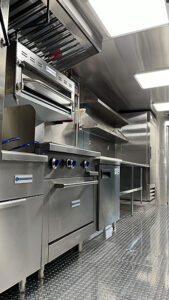 Are you interested to build a Catering truck? interested in a different concept? contact us today to start your dream food truck.