Big Daddy Food Truck
The Big Daddy Food Truck serves American-Korean cuisine, hailing in Suffolk County, NY and parts of Nassau County. Like other cultural cuisines that assimilated in America it is now Korean-American cuisine and its growing fast amongst the food truck scene – a fusion of Korean and American tastes and presentations. How can one distinguish between this blend of the native flavors? Well, to start, if you're Korean you would know. If not, do a bit of studying. Here's an example: native Korean food does not include hamburgers, but Koreans have invented Bulgogi Burgers, which are meat burgers with a Korean twist – the grilled beef! Another way to tell would be to go to the back of the kitchen, ha, ha but Big Daddy Food Truck has a look-through service window. One may not taste the difference, but the preparation and presentation of the food is different. Although you may have not heard, but Korean fusion is very well known with the Korean – Mexican fusion cuisine scene. Look out for Big Daddy Food Truck and be daring and order your American – Korean meal today.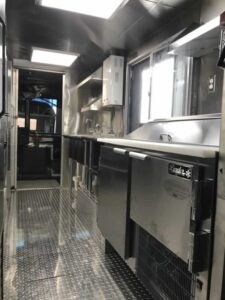 Are you interested in building an American – Korean cuisine food truck? interested in a different concept? Contact us today to start your dream food truck.