Divine Flavored Nigerian Food Truck is a New York City-based mobile kitchen serving up authentic Nigerian and West African dishes such as Jollof rice, fufu (dumpling-like balls made from cassava and/or plantains), gizdodo (chicken gizzards with plaintains), and hearty meat and vegan stews. Founded by Chef Godshelter Oluwalogbon, AKA Chef Divine, in 2019, the food truck serves up delicious meals with a side of his immigrant story.
Chef Divine's journey from West Africa to New York City is a story of an immigrant chasing the American Dream. He arrived in the USA in 2001, graduated from the New York School of Culinary Arts, started working for Zabar's, and launched his own part-time catering company after seeing a need for more Nigerian food options. The food truck was a natural progression to offer more Nigerian food to the masses.
Now he and his team (including many family members) are expanding outside of the Big Apple, with their sights set on Philadelphia and other cities. Their mission is to make Nigerian and West African food accessible to all. Every meal is made with the freshest ingredients, and Chef Divine's passion for feeding people shines through in every bite.
If you're looking for a taste of authentic Nigerian and West African food, head over to Divine Flavored Nigerian Food Truck to get a delicious meal. You can also book them for your next event and have Chef Divine create a unique menu for you. Visit their website or contact them today to book your next event!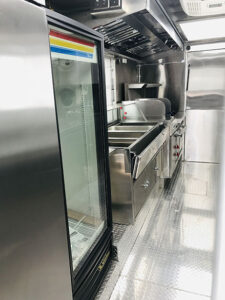 Are you interested to build a Catering truck? interested in a different concept? contact us today to start your dream food truck.