Aladdin's Mediterranean Food Truck is a family owned business located in the heart of NYC. Their mission is to serve healthy and flavorful Egyptian-American food, using the freshest ingredients and traditional recipes.
Aladdin's began as a small NYC Halal push cart in 2012. Now, Aladdin's serves up a variety of Mediterranean-based dishes, including vegan, vegetarian, and gluten-free options.
You can find Aladdin's on 11th Ave & 27th Street in Manhattan, festivals, and private events. Their menu includes a wide range of items, from appetizers and entrees to sandwiches, wraps, and smoothies. Some of their signature dishes include Baba Ghanoush, Greek Salad, Falafel, Gyros, Chicken Kabobs, and Pomegranate Eggplant.
The owners of Aladdin's take great pride in their food and strive to create a unique and flavorful dining experience. Their recipes are made with fresh, locally sourced ingredients and are cooked to perfection. Aladdin's also offers catering services for special occasions, with menus that can be tailored to meet your needs.
At Aladdin's, customers can also find a selection of desserts and drinks, including cakes, baklava, and smoothies. The owners make sure to offer something for everyone, and their vegan and gluten-free options are just as delicious as their other dishes.
Aladdin's Mediterranean Food Truck is a great place to get a quick and tasty meal. Their friendly staff will make sure you have an enjoyable experience, and their delicious food will have you coming back for more. Plus, you can order online and get your food delivered right to your door. Aladdin's is a unique and delicious way to experience Mediterranean cuisine.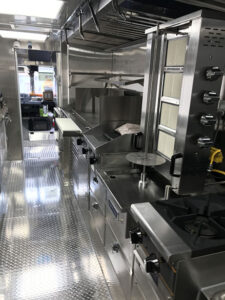 Are you interested to build a Catering truck? interested in a different concept? contact us today to start your dream food truck.