Hapa Food Truck is bringing you the best tastes of the Pacific Islands on the streets of Stamford! Traditional American cuisine with genuine Filipino, Hawaiian, and Asian style, Hapa Food Truck is serving up something new and amazing. Satisfy your hunger today with the best Korean Short Rib Tacos, Hapa Burgerss, Furikake Fries, and so much more!
When Chris Gonzalez and his wife, Nicole Samela-Gonzalez the owners of Hapa Food Truck, were living and working in Maui, Nicole's Hawaiian coworkers repeatedly told her that she and her Philippine-born husband "would have the most beautiful hapa babies someday." She learned that the term was used to describe a person of mixed racial heritage, and commonly among people of part Asian or Pacific Islander descent.
The word stuck with her, and when the couple returned to the East Coast inspired by their year on the island, they decided to start a food truck with the tastes they'd come to love — fresh, spicy and intriguing dishes with a variety of ethnic influences. As they were ready to name the Food Truck, Hapa seemed fitting for the menu highlighting Filipino, Korean, Hawaiian and other Asian flavors.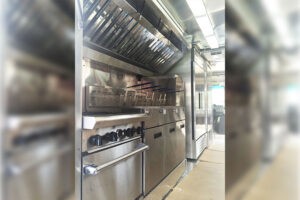 Are you interested to build a Catering truck? interested in a different concept? contact us today to start your dream food truck.