Ms. Spudz Everything Potato "No" Gravy was established in 2012 in Brooklyn, New York, selling at local farmer's markets and festivals. Ms. Spudz is an all potato-based food truck that specializes in everything potato! Their menu includes nachos, mashed potatoes, fries, and chips, which are all cut and sliced fresh from whole potatoes and then double-fried for a crispy fluffy fried finish.
Ms. Spudz wants to make sure their food is always seasoned, and offer flavors from around the world. They also want to make sure their customers get the most out of their food, so they recommend including a variety of plant foods, like Idaho potatoes, in your diet. One medium potato contains about 5g of dietary fiber, which makes them a great source of nutrition.
When you book Ms. Spudz Everything Potato food truck for your next event, you can be sure that you and your guests will enjoy delicious food. Ms. Spudz is a consistent food truck, they meet all your needs, and they also have an extensive menu with a variety of items to choose from. The team at Ms. Spudz is friendly and attentive, and they always strive to make your event a success.
So if you're looking for a delicious potato-based meal for your next event, look no further than Ms. Spudz Everything Potato food truck. They are sure to satisfy all your potato cravings. Visit their website or contact them today to book your next event!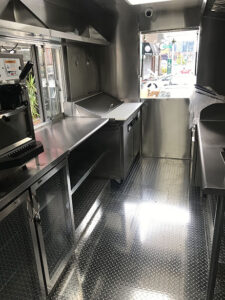 Are you interested to build a Catering truck? interested in a different concept? contact us today to start your dream food truck.