Cipolla Rossa Pizzeria Food Truck is a family run artisanal pizza experience serving hand made Neapolitan/NY Style pizza with the freshest ingredients. The pizzas are created using fresh dough made from scratch (no preservatives), with local, sustainable, seasonal, bright ingredients. Cipolla Rossa is compliant with all health codes, licenced, and insured. They offer catering services for special events, brand promotions and experiential marketing events in the Tampa/Saint Petersburg area.
Cipolla Rossa offers catering for any occasion, from small gatherings to large events. They specialize in Weddings and Rehearsal Dinners, Corporate or Team Events, Birthdays and Special Events. They will work with you to create a delightful and enticing menu and carefully consider your budget to design a uniquely delicious menu that is an extension of your own hospitality. Cipolla Rossa's pizzas are made with fine organic flours and seasonal ingredients.
At Cipolla Rossa Pizzeria, they strive to create memorable experiences for their customers. Their team of experienced staff will serve up delicious and fresh pizza quickly and efficiently. They use only the finest ingredients and make sure every pizza is cooked to perfection in their wood-fired oven. They also offer vegan and gluten free options upon request.
So if you're looking for a unique pizza experience for your next special event, look no further than Cipolla Rossa Pizzeria. You and your guests will love their delicious pizzas and friendly staff. Visit their website or contact them today to book your next event.
Cipolla Rossa Pizzeria used to operate in the Washington DC area, but has since relocated to the Tampa/Saint Petersburg area. They specialize in providing catering services for weddings, corporate events, birthdays and more in the Tampa/Saint Petersburg area.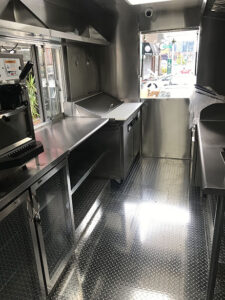 Are you interested to build a Catering truck? interested in a different concept? contact us today to start your dream food truck.