Uncle Win's Food Truck is an authentic Chinese food truck located in New York City. Founded by Chef Wu, the truck has been serving quality traditional Chinese food throughout the five boroughs since its establishment. The menu at Uncle Win's features a wide selection of Appetizers, Chef Specials, Drinks, Rice and Staple Food, Mains and more. Customers can choose from a variety of options such as Sheeted Beijing Duck, Pan Fried Dumplings, Grilled Beef with Black Pepper Sauce, Fried Spring Roll with Duck and Fried Chicken Leg Over Rice.
Uncle Win's is open every day from 10:00 AM – 7:30 PM. Customers can order delivery from Uncle Win's in New York City via Uber Eats. Some of their most popular items include Roasted Duck Over Rice, Milk Tea, Fried Chicken Chop Over Rice and Fried Pork Chop Over Rice. Customers can also customize the order according to their needs. Uncle Win's also offers catering services for special events, brand promotions and experiential marketing events in the NYC area.
Uncle Win's Food Truck is committed to providing customers with quality, fresh and delicious Chinese food. With its convenient location, friendly staff and great selection of dishes, Uncle Win's Food Truck is a great option for anyone looking for a delicious meal. Whether you're looking for a quick bite or a full meal, Uncle Win's Food Truck is sure to satisfy. So come on down and enjoy some of the best Chinese food in New York City.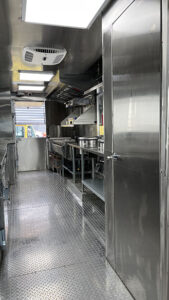 Are you interested to build a Catering truck? interested in a different concept? contact us today to start your dream food truck.